Gold IRA Company Google Maps
This page will show you how to find a gold IRA company with Google maps and what firms should be avoided. You'll discover: 
Why the Certified Gold Exchange is the best option to cut your costs.

Why you should avoid local gold IRA companies if you live in Los Angeles County. 

How to select a gold IRA custodian using Google maps. 

What is "Best Gold IRA Company" affiliate fraud and how to avoid it. 

Why the

"

10 Gold IRA Scams Dealers Use On You

"

report is a must read for all retirement investors. 
For assistance finding reputable gold IRA companies in locations near you, be sure to call our friendly staff at (800) 300-0715. Just mention which state and zip code you reside in.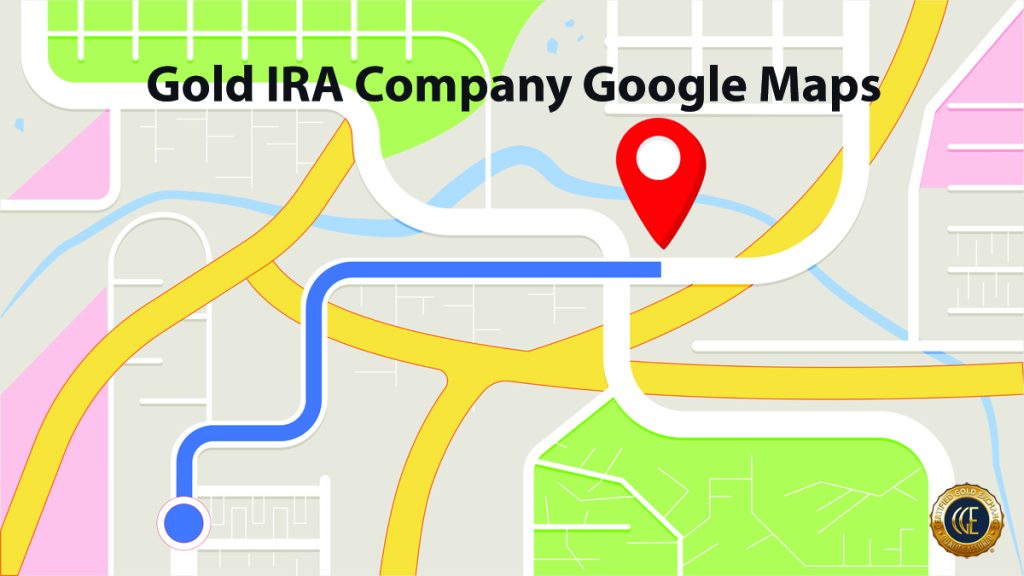 What happens when you search "gold IRA company Google maps"? 
Most of the search results are going to be from news websites listing the 5 or 10 "best gold IRA companies". These news sites are affiliates of the companies they are recommending. They'll rarely consider gold IRA dealers near you that do not pay affiliate commissions. 
Welcome to the world of paid affiliate reviews for precious metals dealers on Google search. 
These affiliate reviewed companies should be avoided because: 
The gold IRA companies they are recommending are paying the news site between 3 and 6 percent of your gross account value. 

Discount metals dealers would never give a 3rd party a portion of your retirement account because it would raise your cost of doing business dramatically. 

Most of the so-called best gold IRA companies are Los Angeles dealers that gouge investors for over 30% of their IRA value. 

They are liberal Southern California targeting conservatives down south and across the United States. 
To find out if a company you're considering is paying for sponsored reviews, call us today at (800) 300-0715. 
Can I set up a gold IRA with a mom and pop coin shop I find on Google maps? 
The majority of gold IRA dealers you find on your local Google maps will be located in Los Angeles, or various cities in Texas. Although the self directed IRA custodians work with almost anyone, putting metals into a retirement account requires specialized knowledge. 
It's best to find a dealer on Google maps whose business model is focused on dealing with physical metals inside of retirement accounts. You should check any prospective gold IRA company's Google reviews. Make sure the clients' reviews mention successful precious metals transactions inside an IRA or 401k rollover. 
How to find a self directed IRA custodian that allows you to invest in precious metals using Google maps?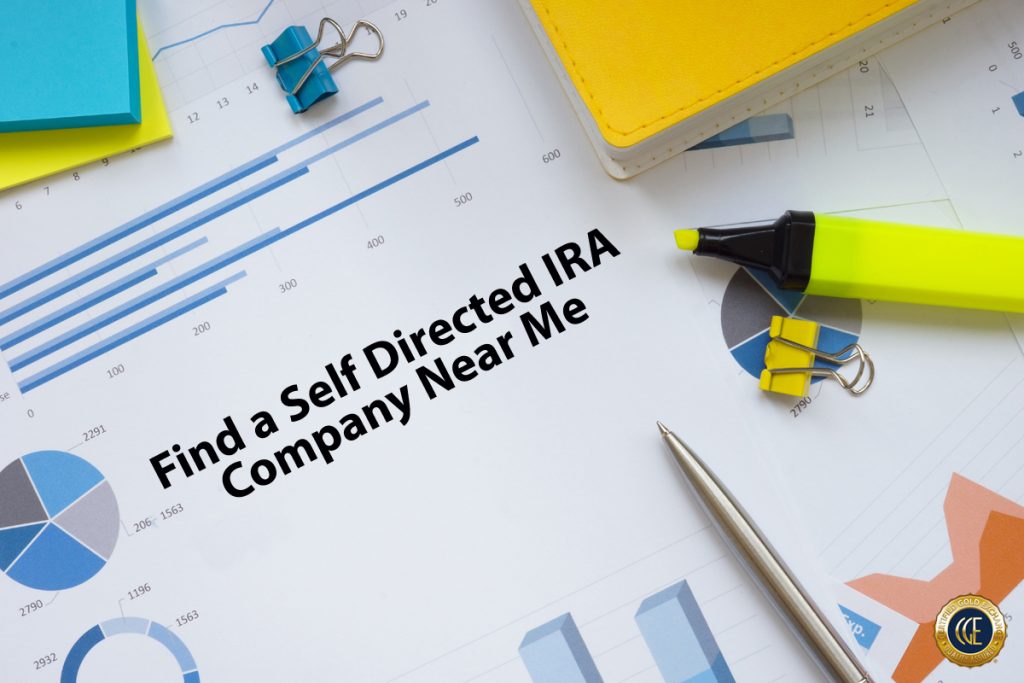 A self directed IRA precious metals custodian is the fiduciary that is authorized by the IRS to manage your retirement account. Most large custodians, like Charles Schwab, handle traditional investments like stocks and bonds, but they don't deal with physical gold and silver. 
This is where a self directed precious metals IRA custodian comes into play. These custodians deal with alternative investments like gold, silver, cryptocurrency and even real estate.  
If you want to find a gold IRA custodian, it may take a long time. We have made it easy and have a list of the 19 custodians that deal in gold. We list the physical address and fee schedule for each company.  
Click on the following link to find self directed gold IRA custodians and their fees. 
We have used Google Maps to find gold IRA companies that specialize in helping retirement investors. 
This list only contains companies that specialize in servicing retirement account investors.  To find a company nearest to you, call (800) 300-0715 and ask for Ext 588.
Gold IRA Dealers In Texas On Google Maps          (12)
Gold IRA Dealers In California On Google Maps    (24)
Gold IRA Dealers In Florida On Google Maps          (1)
Gold IRA Dealers In Michigan On Google Maps       (1)
Gold IRA Dealers In Illinois On Google Maps           (1) 
Gold IRA Dealers In Oklahoma On Google Maps     (1) 
Dealing with a company outside of the states listed above may not have the optimal outcome you desire. Remember, when you buy gold and silver for your retirement account, there will be three firms involved. They are: 
The self directed IRA custodian

The gold company that will supply and eventually repurchase the metals

The precious metals depository that will store and insure your assets
Since your relationship to the 3 different entities will be managed by the gold company you select, it's important to use a firm that is used to dealing with the custodians and depositories. Full service IRA companies will have dedicated staff that can handle your inquiries so you don't need to be on the phone for hours with the custodian to get a simple answer to your questions. 
Why the Certified Gold Exchange should be in your search for a gold IRA company with Google maps. 
The Certified Gold Exchange has been in business since 1992. We have serviced retirement investors since 1997. This is when you were first allowed to place physical precious metals into a self directed IRA with the creation of the Internal Revenue Section 408(m).
In over three decades, we have never had a single client complaint. It's not because we never make mistakes. Rather, when one is made, it's corrected immediately. 
Our corporate headquarters is in Fort Worth, Texas. We ship clients' metals from depositories in Delaware, Texas, Florida, Nevada, New York, Utah, Tennessee and South Carolina. 
The Certified Gold Exchange and our partner companies have accounts with most of the large IRA metals storage facilities. This helps because when you want to liquidate a precious metals IRA you usually will not need to pay to ship your assets. They will generally just be transferred from your account to ours at the IRA depository. Then your IRA custodian will receive the proceeds on your behalf.
Other advantages you get from working with the Certified Gold Exchange: 
A very competitive pricing guarantee that checks 6 major US discounters to bring you the best price for your IRA metals. 

CGE is the most transparent company in the self directed IRA sector.

Our account agreement shows buy/sell spread structures at what most other gold IRA companies charge. 

Zero complaints on the BBB and 5 star Google rating.

A team of gold IRA experts that deal exclusively with retirement accounts.
Ways the Certified Gold Exchange can help you get started:
No pressure answers you can trust by calling (800) 300-0715
We can also help you find a gold IRA company on Google maps, so call our friendly staff today.
Belinda Murel
★★★★★
Working with Pat and the team at Certified Gold Exchange made the process of diversifying my retirement savings stress free. I'm confident the selection of precious metals offered were the best fit for my situation and at the best price. No high pressure sales tactics, just fact based answers to the questions and concerns I had. Highly recommend.
Timothy Feeley
★★★★★
Working with Certified Gold Exchange has been a positive experience. Working with Pat is not just working with another business vendor, I feel I am working with a trusted advisor. No hard sells. No wild claims. His explanation of the paperwork process between companies and his follow-up during the process is excellent. I appreciate his fact-finding approach to my specific needs. He always had time for me to ask questions and/or discuss ideas I was thinking about. A good business relationship.
Warren Richardson
★★★★★
I had an excellent experience with Certified Gold Exchange. I dealt directly with Pat Collins who was professional, knowledgeable, informative, and very easy to work with. He responded quickly and precisely to any and all of my questions. Very highly recommended!
Edward Albert
★★★★★
I was looking to liquidate the precious metals in my IRA . The horror stories I had heard of about some gold and silver dealers had me very apprehensive. When I called Certified Gold Exchange and talked with Patrick, I quickly felt a sense of trust in his voice. He answered all my questions and understood my fear of getting taken advantage of. He and his team work very hard behind the scenes ensuring the transaction to go smoothly. As a result CGE has earned my 5 star rating! I will contact them again if I want to buy or sell in the future!
ALAN BROWN
★★★★★
Certified Gold Exchange's website really jumped out to me as I began researching precious metal IRA's. I found it to be incredibly comprehensive and informative, answering questions I did not even know to ask and alerting me to bad practices within the industry as well. So, I called and found the CGE team to be every bit as helpful as the website. They were responsive immediately and throughout the process of establishing an account and funding it. They were particularly helpful when dealing directly with my current custodian and getting funds rolled over. Pat and Mary have been courteous, personable, and very professional working with me and even helped with questions outside the immediate business at hand. I have already referred friends to CGE and will continue to do so.
Alison Weinberg
★★★★★
Pat and team are very knowledgeable and professional!
Ismail Kenessy
★★★★★
Customer since 2005. Professional, courteous, and helpful. CGE walked me through the process and provided the best prices available with minimum costs. Excellent service.
Joe Murray
★★★★★
What super service I received from the Certified Gold Exchange precious metals IRA team. Wow is all I can say! I had a large amount of coins in a gold and silver IRA for many years and decided to sell. I spent just about a whole day talking to several metals dealers about purchasing my metals. Call after call I did not feel good about what I was hearing with these dealers so I called the company that helped me set the gold and silver IRA up. Their name is Broad Financial LLC. I explained the problem I was having with finding a buyer and they said that is common in the industry. They told me to call the Certified Gold Exchange, Inc in Fort Worth, Texas. I spoke with Mr C there and was impressed that their quote was above the spot price (because I was hoping to get the spot price). They explained that American Eagles buy back at over spot and I said not with all the other dealers I called. I shipped the metals to their New York depository following the Certified Gold Exchange's instructions. Candace at CGE tracked the package every step of the way and I was updated along the way. Then when my metals arrived at the Certified Gold Exchange depository they told me that several of my coins were actually American Eagle Proof coins, not the bullion version I thought I had. They increased their original quote by $3000.00 dollars! Shocking that a company would be so honest because they could have just sent the original amount and I would have been happy. Needless to say I will never deal with a different metals dealer except the Certified Gold Exchange. Their gold IRA team is the best by leaps and bounds. I highly recommend Candice, Mr. C and the CGE team to any one looking to buy or sell metals with a great experience. Americans trusted source For Gold is not just a tagline with these folks.
ted okolowicz
★★★★★
After searching and checking out different metals companies, I decided that Certified Gold Exchange Inc. was my choice. They have exceeded my expectations and made my IRA rollover easier than I thought.You can be very confident by the way every step was handled (very professional).So kudos to the whole TEAM and thank you
Joseph Glassman
★★★★★
I had a very good experience with Certified Gold Exchange and I highly recommend anyone considering a IRA Rollover into precious metals, talk to David White at Certified and do business with them. They are honest and will have your best interest as their concern.. David took care of my needs completely with honest and fair pricing. I shopped around and decided on Certified.
Lefty and Mary Jamora
★★★★★
Thank you David and Pat for educating us on the gold and silver markets. Pat especially helped us thru our first purchase of silver.
M Phommahaxay
★★★★★
So glad I found CGE! Although, they don't do business in my state, David White was so kind to take the time out of his busy schedule to educate me on precious metal investing. His advice was extremely valuable which saved me a ton of money. I would definitely recommend and refer any of my friends or family members interested in investing in precious metals in their service area. So thankful for David and this company!
Rickey Johnson
★★★★★
My experience so far with Certified Gold Exchange was all very positive. Everything went smoothly and P. Collins was awesome in helping us navigate through the process.
Aaron Brabham
★★★★★
I called Certified Gold Exchange to get information on a crypto currency IRA. I had a ton of questions and Steve not only answered all of them but also informed me of many things I had not thought of.I decided to invest $60k and in just three months it's over $120k! Not only that, the team at Certified Gold Exchange has excellent customer service.I highly recommend them.
Mark OLeary
★★★★★
Philip with the certified gold exchange was incredibly helpful in helping me to setup a Cryptocurrency IRA. He knew exactly what questions to ask my existing custodian to make the rollover as seamless as possible. In just a short few months with the recommendations of Philip; I have already seen over a 250% return on my investment. Highly recommended.
Gal Tab
★★★★★
The reason I give it the maximum stars is because everything happened just the way they planned it. I invested a considerable sum of money with them and as anyone would be, I was a little scared. I did my research and They came highly recommended as being ethical brokers. Their fees are very competitive and look forward to doing more business with them.
Diana Fincher
★★★★★
I rolled over my IRA into Silver a couple of years ago and made a friend! Agent Pat C, Certified Gold Exchange, Inc., has far exceeded my expectations with continuing, careful watch over my investment. He always surprises with immediate personal response to my slightest question and inspires confidence to hold to The Plan. Pat's personal touch and excellent recall is reassuring and has proven that he will keep me informed when any changes are advised. Ask for Pat - he's excellent, excellent!
Steve Astin
★★★★★
This was the 3rd company I called and by far the most professional. Thanks Patrick for the great service!
Alicia O'Rear
★★★★☆
Thank you for donating 16 bibles for our foster children at Albuquerque Christian Children's Home! This is a wonderful company with a heart for ministry.
Kyle Sanders
★★★★★
I was interested in doing a gold IRA rollover and contacted several firms after researching on the web. Certified Gold Exchange's website had the most useful information by far compared to other firms. Their representatives have been a pleasure to work with--professional, answered every question I had, and I'd recommend them to anyone looking at a gold IRA rollover.
Robby Bryant
★★★★★
I am a Certified Financial Planner, and Certified Gold Exchange has helped us purchase gold for 16 years without a hitch for our clients and at excellent prices. We couldn't be more satisfied!
Anne Sayre
★★★★★
My husband and I were thrilled with the service we received at Certified Gold Exchange! Shipping our gold to us was quick and very simple. So happy we did not have to pay for the TV advertisements with celebrities like so many of the other precious metal companies. We will be buying again from CGE!
Neenah Payne
★★★★★
Certified Gold Exchange, Inc. is a highly professional firm that was a pleasure to do business with. It provides fast and accurate service. The firm went out of its way to be helpful on a number of key issues. I highly recommend them. I was extremely lucky for several reasons to have called the Certified Gold Exchange, Inc. when I was ready to sell my gold and silver coins. When I called the firm, Liam on the service desk explained that they scan hundreds of gold dealers to get me the best price. That was very comforting.When I spoke with coin dealer David White, he was able to give me a quote in 3.5 hours. He also explained the importance of shipping my coins via registered mail with the Post Office. David said that the Post Office requires a registered box to be sealed with brown paper tape to prevent tampering. David emailed me links to sites that showed the right tape to use and how to seal the box. He called several UPS stores in my neighborhood to try to find the tape for me. In the end, I bought the tape from the Post Office. David explained that while Fedex and UPS would ship the coins, since they are not allowed to ship gold or silver, I would have no recourse if my coins were lost. David even gave me his home number so I could reach him after hours if necessary.My experience with Certified Gold Exchange, Inc. stands in stark contrast with how two other coin brokers responded. The firm from which I had bought most of my silver coins never called me back. On November 13 when I called the broker from whom I had bought most of my gold coins, I couldn't get through on the phone. So, I emailed them and it took 5 days for them to respond! The broker didn't give me a quote until December 2 -- and then only for some of the coins! He said he would tell me what they would pay for the other coins after I shipped them!In addition, that broker explained that one of their customers had lost all their coins valued at $22,000 because the box was tampered with and they had failed to insure them for the full amount. However, I knew by then that if the firm had told the customer to ship the coins via registered mail as Certified Gold Exchange, Inc. does, the box could not have been tampered with.So, Certified Gold Exchange, Inc. is the only gold and silver dealer I recommend. The level of service is truly remarkable.
Jovita Garces
★★★★★
What do you do with what little you have to put away for the future? After my divorce 16 years ago, I decided I needed to find an IRA and invest my children's money into something that would retain and grow in value through the years. I found a great website called Certified Gold Exchange that intrigued me and when I called, John listened and understood my needs and helped me understand the value of investing in rare coins and precious metals before taking that all important step. I am happy I took a leap of faith knowing the prospect for growth in my precious metals IRA and children's funds for college and maybe first home some day was very real. I believe I made the best choice for our future. I can always trust CGE to give me honest and dependable service everytime I call in them.
Maria S
★★★★★
Patrick Collins and Certified Gold Exchange (CGE) Team: I appreciate the support, you took me on for this transaction when I wasn't even an existing client. (Yes I know CGE made some money). It was you manner, caring and fast response that made me feel very comfortable with you.Your interest in helping me on such short notice shows how much you care for your clients. I hope 🤞 to have you as one of my financial team in the future.
Natalia Ariza
★★★★★
Certified Gold Exchange is the best metals company in the US hands down!
Paul Lifton
★★★★★
Piper Peterson
★★★★★
It's not always the case with precious metals dealers but the Certified Gold Exchange hires the best advisors in the industry and this is the reason for their outstanding reputation.
Eric Benjamin
★★★★★
We have purchased from several dealers and hands down these guys have been the best. Above and beyond are the words I would use to describe their service. You will not be disappointed if you have been on the fence about buying!
Josh Singer
★★★★★
Working with Certified Gold Exchange has been a great experience. The Certified Gold Exchange staff are very very good communicators and clearly have a lot of experience. Anytime we had a question or needed anything from them they responded the same day, if not the following morning. I would recommend working Certified Gold Exchange. Hands down great communicators and great business people.
Burt Dumerton
★★★★★
I have been working with Certified Gold Exchange Inc. since 2005 and have found them to give exceptional service and prices for precious metals. They have always treated me with great respect and given extraordinary personal attention to my account and to me personally. Their advice on many occasions have kept me from making some pretty serious errors in my investment decisions. They are prompt to return my calls and take special care to not be pushy or arrogant. Excellent to do business with. Give John a call.

Protect Your Retirement!
Avoid These 10

Gold IRA

Scams.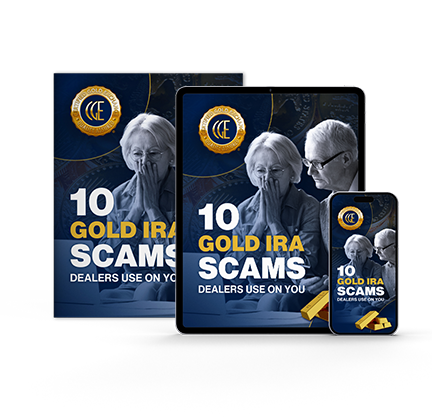 10 GOLD IRA SCAMS
DEALERS USE ON YOU